Submitted by
nutrition-li
on Mon, 10/04/2010 - 17:02
最近在看一篇文章,有些数据分析方面的问题搞不清楚,如果有人处理过类似的数据,请不吝赐教。谢谢!
MR Image Acquisition
Images were acquired with a multislice, singleshot EPI sequence to achieve whole brain coverage: 40 axial slices, TR=5 seconds, TE =35 illiseconds,
3.5-mm slice thickness, in-plane resolution 1.8 mm by 1.8 mm at the Magnetic Resonance Imaging Facility, Salford Royal NHS Foundation Trust, Salford. A SENSE 8-channel head coil was used for radio frequency transmission and reception.

Image and Statistical Analysis
The physiologic imaging data were analyzed with the use of the Statistical Parametric Mapping (SPM5) with the pseudo-block pharmacologic
MRI analysis technique. Images were realigned to correct for motion and were spatially normalized and smoothed to facilitate intersubject averaging. Four sets of scans were excluded from study 1 (3 because of excessive movement by the participant in the baseline period of 1
of the 2 scans, and 1 because of a lack of brain stem coverage in the participant's images), and 2 sets of scans were excluded from study 2 (both because of excessive movement in the baseline of 1 of the 4 scans as stated above).
First-level analysis was performed on each participant for each study condition in the following ways. The preinfusion and postinfusion scans were split into time bins; the postinfusion scans were divided into 15 consecutive 2-minute time bins (T1–T15) and the 24 scans from the 2 minutes immediately before the lipid/saline infusion formed the baseline time bin (T0). In each participant, the signal averages for the 15 postinfusion time bins (T1–T15) were compared with the baseline average (T0), using regression analysis for each condition (lipid, saline, lipid-dex, saline-dex). A subtraction between conditions resulted in 15 first-level images corresponding to the BOLD signal change from baseline between conditions in each successive postinfusion time bin for each participant.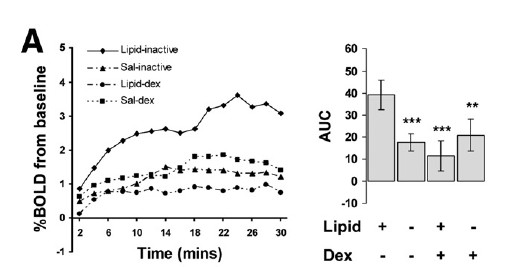 我有疑问的地方已经用黄色标出了。1、time bins这个概念怎么理解,为什么要把scans分成time bins?
2、文章中统计分析用的是BOLD signal,请问BOLD signal的数值时怎么得到的?上图就是文章中的图表,我想知道BOLD的改变是怎么计算出来的。
我刚刚开始学习fMRI,有许多问题不是很懂,也不知道我是否把问题说明白了,如果没说明白请大家留言,我继续补充。
感谢大家!